Finishing Touches
There are lots of ways to embellish your tallit and personalize it, whether through color or embroidery stitching.  Below ere are just a few of the ways, but for more inspiration, check out the embroidered atarot, atarah/corners sets and embroidered corners:
The corners of the tallit can all be the same, though many of my customers have selected a "theme."  These are a few samples, such as the four seasons of the year, names of the matriarchs and Jewish symbols.
Every custom tallit has an embroidered label inside the neckband for personalizing, such as the bar/bat mitzvah's name in English and Hebrew along with the simcha date.  But a few customers have used the lining of the tallit to embroider family names/dates:

Names and bat mitzvah dates of grandma and granddaughter embroidered onto the side of a tallit:

The atarah (or even the entire tallit) can be banded with a coordinating or contrasting silk: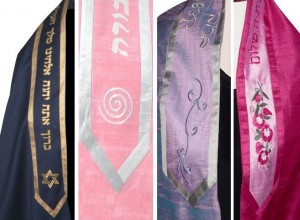 Additional embroidered designs are often placed at the ends of the atarah: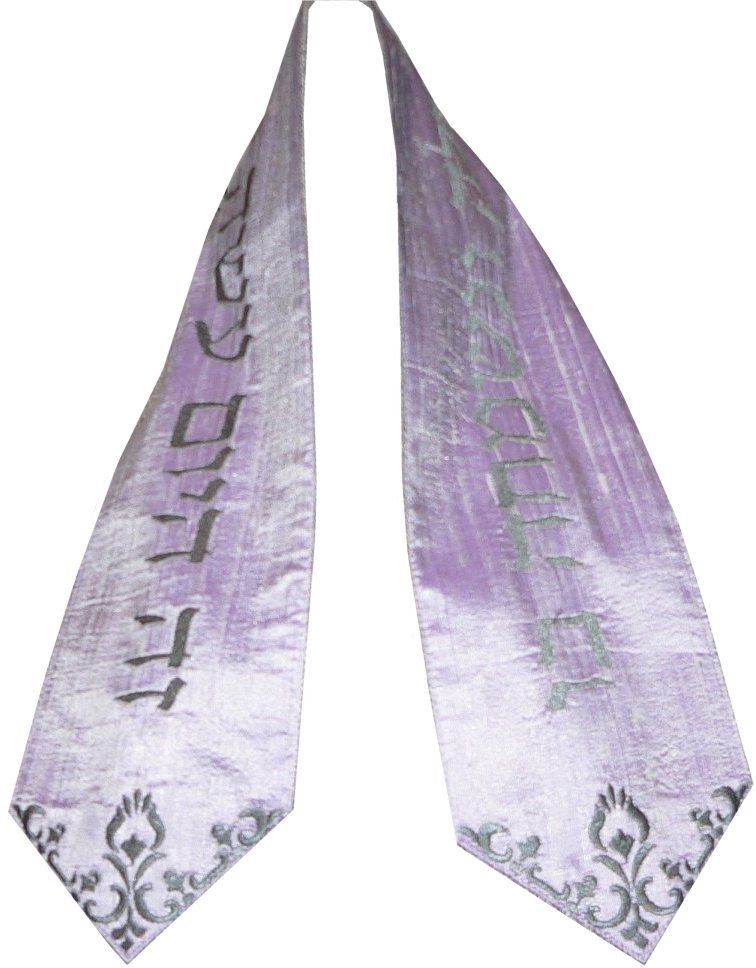 Some embroidered designs look great when stitched directly onto the fabric.
This one used the waves design and added musical notes:
A loom woven tallit (on the loom-woven page) I created an extra special hem since it was to signify the high priests with Tibetan bells and pomegranates, as well as a custom digitized pomegranate corner:
Custom dyed fringe is a nice way to continue the color scheme:
Or "corners" that really aren't square corners:
The wool tallit imported from Israel are woven on a loom, so extra warp threads are left to make a knotted fringe.  On most wool fabrics, the weft threads can be pulled out to make a self-knotted fringe:
Digitized corners:  For these father/son tallitot, special images were digitized.  (L) fancy chai; (C) lake scene; (R) verse from Vayiera.

How about a contrast lining?

This is a technique known as "couching."  These were individual strands of needlepoint thread that were sewn directly onto the silk in a free-form waves pattern.
For this tallit, the lining was made from the client's grandmother's wedding dress!
And this tallit used a grandfather's bar mitzvah garment for the lining!
Or a hand-tied fringe?  (L) is rayon chainette (like graduation tassels) on a silk tallit; (M) silk/wool boucle weaving yarn for a wool tallit and (R) double knotted fringe from wool of the tallit.
Dyed tzitzit?  Yes that's possible, but be sure to check with your Rabbi.  Many don't consider them kosher unless they are white.  Here's a set in lime green:
Text on a circle?  Sure.  Actually it can be set on any line, circle or wave.