For as long as I can remember, my hands have been an extension of my creative energy.  I have thrown pottery, sculpted from alabaster, painted silk, soldered silver jewelry, created beaded jewelry, built cabinetry and designed web sites (including mine.)  My latest venture is into making leather accessories.   I am also an accomplished miniature woodworker and dollhouse builder.
I was born and raised in the New York area and relocated to North Carolina in 1989 with my husband and three small children.  Living here for 31 years has definitely made me feel more like a "southerner" but I still miss NY and try to visit old friends and family whenever time permits.
I was a Hebrew reading tutor in my synagogue's religious school for over 8 years so, yes, I can read and write Hebrew (even script) but my growing business put limits on my time.  I still privately tutor bar/bat mitzvah students, teach beginning Hebrew reading classes and give private sewing lessons.
In February 2001, together with 8 other women, I celebrated my Bat Mitzvah as an adult; it was one of the most memorable events of my adult life and, after years of study, a dream that was finally realized.  Our Parshat, Beshallach, was so fitting, since it is not only about faith, but about Miriam and the strength of women.  We had a group aliyah in 2019 to mark 18  "chai"  years since the bat mitzvah.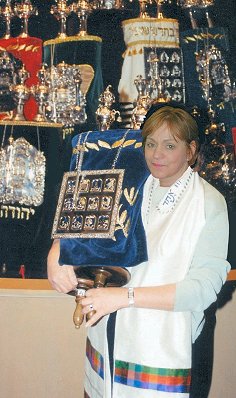 Kippah & Judaica Design combines my two passions: art and Judaism.  Making custom tallitot and other Judaic items is what I love to do.  I hope you feel that same emotion wearing one of my handcrafted items!  Check back often as I continue to add new items to the site.
I am blessed to have been part of so many Jewish celebrations and, through my work, to have "met" wonderful people all over the world.  Thank you all for sharing your lives with me.
Bevirkat Shalom (With a blessing of peace)

Jan