Custom Made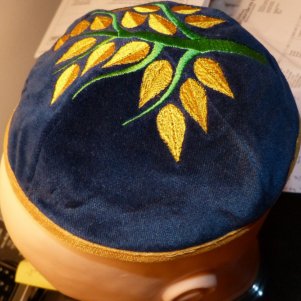 For women who want an alternative those lace doilies, I keep white and black crocheted kippot (imported from Israel)  in stock that can be trimmed with various decorative cording, brocade trims and lace or embroidered with a name or a design.  Prices start at $15.
I also make 4-panel kippot from silk in your choice of color.  Most of my customers choose a silk kippah to complement their custom tallit order.  These can be customized with an embroidery design, contrast trim or hand sewn crystal/pearls.  A few examples are shown below.  The basic silk kippah costs $40.  It is lined and has a buttonhole inside for a hidden clip.
Please note:  You can order one or two, but I am NOT set up to do bulk orders.  If you are looking for a large quantity for your party guests or family, please contact various suppliers on the internet.
I can make up to 8 silk kippot for dads/groomsmen in a wedding party.  You can go here to see some of the ones I have done.