Military Tallit
I was recently commissioned to re-create a tallit for an Army Chaplain.  These are pictures that were sent to me of two original tallitot (part of the WWII collection at the National Jewish History Museum):
Seems no-one could locate the original fabric used, so I had to select something I thought would be roughly equivalent.The design for the tablet and star was done by my professional digitizer.  Here's what was created: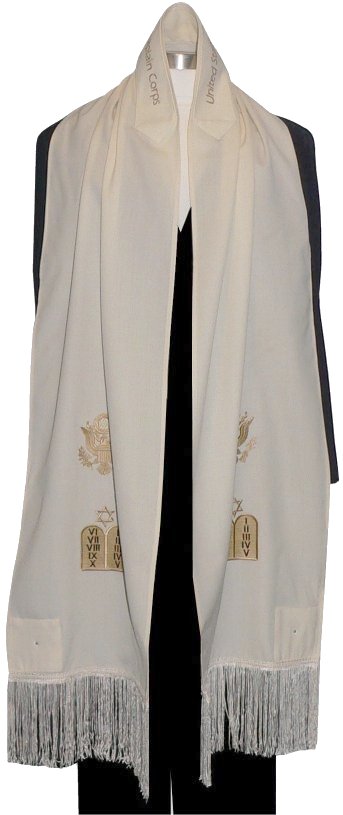 This is the atarah that was done for the Air Force Chaplain (rather than the traditional bracha.)

But the traditional blessing can be embroidered as in this sample:

Here are four new ones:  #1 is for a US Navy Officer, #2 for a Navy Seal (Navy officer insignia and trident seal were custom digitized), #3 for a retired Navy Seal and Physician (notice the two caduceus designs below the atarah) and #4 for retired Army Officer. 
Two new atarot: Psalm 107:23 for the Navy officer: "They that go down to the sea in ships, that do business in great waters."

Deuteronomy 31:6 for the Navy seal: "Be strong and of good courage; fear not, nor be afraid of them."  Traditionally, an atarah does not have the vowels, but they were requested for this one!
Translation is embroidered on a label stitched to the inside of the neckband: